Suvi-Anne Siimes
Managing Director
firstname.lastname@tela.fi
Who?
I came to TELA more than ten years ago from the position of lobbyist in the pharmaceutical industry. My previous background was in national politics, where I worked as a party leader, a government minister and a member of parliament. However, my original dream was a career as a researcher. With this in mind, a long time ago I was pursuing both postgraduate studies in economics and academic teaching assignments. I have a Licentiate of Social Sciences Degree (Economics) from the University of Helsinki. I also have extensive experience of serving on the boards of various large limited companies operating in regulated industries.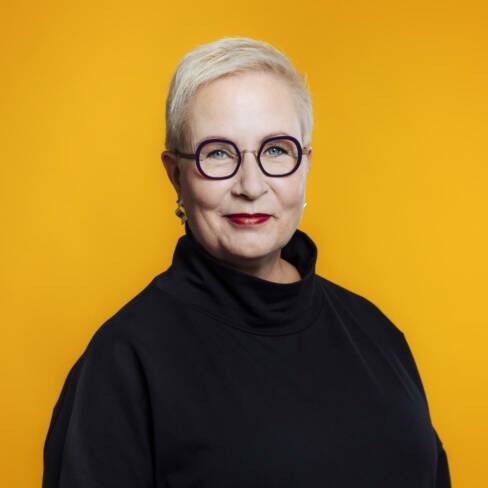 Working groups
Board of Directors of TELA
T-Group
Employee Pension Executive Committee (Finance Finland)
Finance sector (National Emergency Supply Agency)
Board of the European Association of Paritarian Institutions of Social Protection
Responsibilities
Overall responsibility for TELA's operations and finances and their development
Supervisory duties
Supervisor of other supervisors
Ask me
About anything in our sector. I'll refer you to the right place if I can't help or answer myself.
The pension system is like a coastal cliff: it accumulates heat during the work years and releases it back in the twilight of one's life.

Suvi-Anne Siimes, Managing Director
In my spare time:
My favourite hobbies are reading, physical exercise and hiking in nature. I also like occasional solitude, the company of my beloved spouse, and being with my grandchildren. Beauty in its various forms — in nature, art, architecture and interior design — is also important to me, as is a sense of space. I enjoy when the soul rests, thoughts flow and I learn something new.
Comments by workmates:
"Suvi-Anne has a broad vision of the entire earnings-related pension sector, and she is a thorough and wide-ranging thinker. According to workmates, Suvi-Anne has the special ability to notice the tiniest details as well as deeper and broader themes. She is one of those people whose mere presence illuminates a room. Suvi-Anne is TELA's gentle mother figure and empathetic leader of the troops, whose heart is in the right place."
Assistant:
Pirjo Sved, firstname.lastname@tela.fi, tel +358 44 541 5880